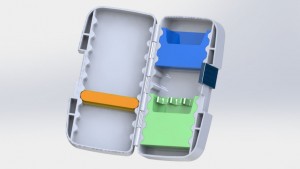 I've officially completed my first month working as a product designer. This is an incredible milestone for me, and I'm so happy to have had the opportunity to pursue my dreams right out of college. Creative Edge Products has helped me grow as a designer and given me the opportunity to develop many different skills that I didn't have the chance to nurture in college, like using SolidWorks for things other than robotic mechanisms (Princeton used PTC Creo and most projects were very geometric), 3D printing, and actually designing products for consumers. It's been an exciting challenge, and I'm glad that I took the leap of faith into a career path that my degree might not have been perfectly suited for.
I have also had the opportunity to work directly with clients and already have projects that are under primarily my supervision. There are very few companies that would have given me this much responsibility already.
My first completed product (that I'm allowed to tell you about) is the Carry Case for Glass Products that Creative Edge Products was contracted to design. You can learn more specifics by reading the portfolio post, but the essence is that I designed a sleek and customizable carry case from start to finish, and the client loved it!
Overall, I had an amazing first month, and I'm so excited to see what comes next.
Keep thinking!
~Annie